We are the first and only Gallery in the Philippines, specializing in Antique Prints and Books before 1900, with particular emphasis on the History of the Philippines, i.e. Filipiniana.
Since our establishment in 1996, or 19 years ago, we have grown and become internationally renowned as specialist of historical original printed material about the Philippines, dating back to the 16th Century.
Insulae Philippinae
hand coloured copper engraving by Petrus Kaerius
from "Caert Thresoor" (Miniature World Atlas)
published by Barent Langenes/Cornelis Claesz
2 vol. in 1, p. 605 Amsterdam, 1599 (1598)

We are offering the connoisseur and collector of art and history of the Philippines and Southeast Asia an unsurpassed inventory of antique prints and maps covering six centuries, a volume and scope that compares favourably with any comparable Gallery in Hongkong or Singapore, and even Europe and the USA.
Hahnenkampf in einer Strasse Manilas (Philippinen)
[Cockfight in Manila Street]
hand-coloured wood engraving
by Conrad Ermisch, 1898

Moreover, we published the first comprehensive compendium of antique prints on the Philippines with the book "The Philippines in the 19th Century" in 1998, along with postcards, reproductions, and other individual items intended to showcase the Philippines of the past to a broader audience. These local publications complement our huge range of antique maps, views, and prints on zoology, ornithology, ethnology, anthropology, geography, and other natural sciences.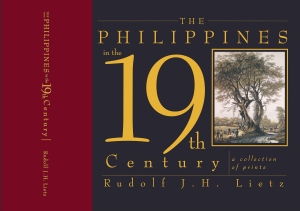 As is common with international galleries of this stature, we also offer ancillary services such as acid free, museum-style conservation matting and framing, as our Sister company Rudolf Lietz, Inc. is a direct importer of such materials. In support of these activities, we sell these materials plus peripheral products in support of other galleries, contractors, interior decorator or individuals who execute such work on their own.
Lastly, the location of the Gallery in a large Shopping Mall is conducive to attracting the occasional tourist or business visitor looking for the special corporate or individual gifts from a range of products not found elsewhere.
© Rudolf J.H. Lietz, F.R.G.S.